AP Chemistry Powerpoints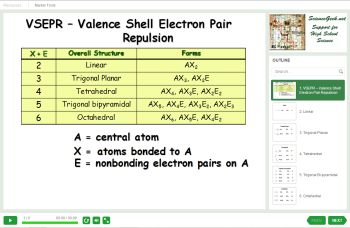 In keeping with the new framework for AP Chemistry beginning in 2013 - 2014, I am indicating here if the topic to which a Powerpoint relates has been dropped from the curriculum. It will be identified as excluded (Excluded) to indicate that the College Board has specifically excluded it. I will leave the Powerpoints here, however, in case some of you find them useful. In the event that only part of the content of a given Powerpoint has been excluded, I will make note of that fact in the body of the PowerPoint presentation itself. It is not likely that I will delete the content completely, because I realize that excluding content from a test does not always correlate to excluding it from the curriculum.
I am no longer posting these presentations in Flash. I have shifted completely to HTML 5 format, which means that these can now be viewed on mobile devices with HTML 5 enabled browsers, such as iPhones, iPads, and Android devices. iPad users opening the HTML 5 format will be prompted to download iSpring's free viewer for these presentations. Using the free iPad app, you can save the HTML 5 presentations for offline viewing on the iPad. Android users now have an iSpring viewer as well - get if from Google Play.
The HTML5 presentations also have some nice new features. At the top left of the presentation, you will see a tab called "Marker Tools" which contains built-in writing tools such as a marker, highlighter, and eraser. The "Resources" tab gives you quick access to my online review activities for the subject that you are studying. Those activities require Internet access.
For people who want the original PowerPoint file, you can download the PowerPoint Slide Show (.ppsx). Open the file from within PowerPoint, and you will have a fully editable version of the presentation. Modify it, save it, use it however you wish.