About Mr. Allan
I was born in San Mateo (with an identical twin), in the San Francisco Bay Area in 1959. I attended schools in Hillsborough until moving to Stockton in 1973. I graduated from Stagg High School in Stockton in 1977, and received my bachelor's degree in Biochemistry and Molecular Biology from the University of California at Santa Barbara in 1982. During the next few years I worked as a teacher/counselor with severely emotionally disturbed teenagers at the Hobb's Landing RE-ED program located on the Devereux Foundation campus in Isla Vista. It was the best possible training for my future in the classroom, though I did not realize it at the time.
Eventually, I decided to pursue a career in teaching, combining my love of science with the satisfaction that I get from working with teenagers. I returned to UCSB in 1985 to get my teaching credential in Life Sciences and Physical Sciences. With credential in hand, I signed my first contract with Visalia Unified Schools and began my first year in public schools at the age of 27.
I taught at Mt. Whitney High School from 1986 to 2003. During that time I taught Health Science, Earth Science, Chemistry, Biology, and the first AP Chemistry course at Mt. Whitney. In addition to teaching, I coached football as well as Track and Field. In 2003 I began my new job as a science teacher at El Diamante High School. Both schools are located in Visalia (pop. 120,000), at the center of California's agriculturally rich Central Valley. Visalia schools have a well-earned reputation for their commitment to serving youth from a broad range of cultural backgrounds. In 1990, I bought my first computer, a Macintosh Classic. Since then I have spent countless hours advancing my computer skills. This website is one of the products of my ongoing, self-guided technology education. I hope that you find it useful.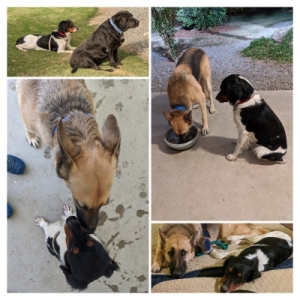 My family currently consists of myself, my wife Lori, our daughter, Madison, and our dogs: Happy, Onyx, and Bonny. All of my dogs are recovered strays. Happy, a Cocker Spaniel mix, was found wandering the streets of Visalia. Bonny is a purebred German Shepherd and Onyx is a black lab mix - we adopted them both from Central Valley Rescue Railroad. Bonny was rescued by volunteers from the Porterville landfill - a truly "dumped" dog. Though I love all of my dogs, Bonny is my baby, and I often refer to her as "the best dog ever". We live in a beautiful home on a half-acre lot where half of the yard belongs to our dogs. In my free time, I bicycle through the countryside, foothills and mountains of Central California. I've also played the guitar for over thirty years, and in 2006, I started learning how to play bluegrass banjo as well.